Preserving Gospel Values
St Peter's College in Gore is a vibrant educational institution that upholds the rich traditions and teachings of the Catholic faith. As a testament to the commitment of our local Catholic Community, our school exists to instill and preserve Gospel values in our students, nurturing their spiritual growth and guiding them to become compassionate and responsible individuals.
At St Peter's College, our values are firmly rooted in the example set by Jesus Christ. We strive to create an inclusive and supportive environment where every student can flourish and thrive, walking in the footsteps of our Lord. Our community embodies a profound belief in Jesus and embraces the transformative power of faith in shaping our lives.
We are dedicated to fostering a sense of hope for the future among our students. We encourage them to envision a world where love, justice, and compassion prevail, and to actively work towards making that vision a reality. Through our comprehensive educational programs and faith-based initiatives, we empower our students to become agents of positive change in their communities and beyond.
Central to our values is the care and concern we show for one another. St Peter's College promotes a culture of respect, kindness, and empathy, where each individual is valued and supported. We celebrate the uniqueness and giftedness of every student, recognising and nurturing their talents and abilities. Our aim is to provide a nurturing environment that enables students to grow holistically and reach their full potential.
St Peter's College in Gore is more than just a school; it is a community united in faith and shared values. We invite you to join us on this remarkable journey of faith, education, and personal growth, where we strive to inspire and empower our students to become compassionate, resilient, and purpose-driven individuals, ready to make their mark in the world.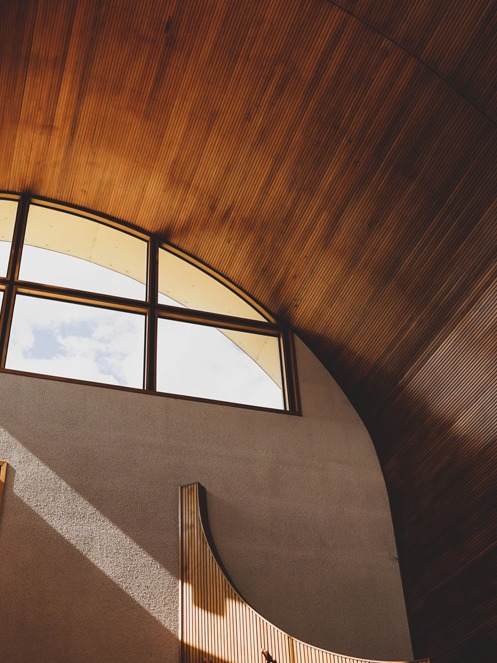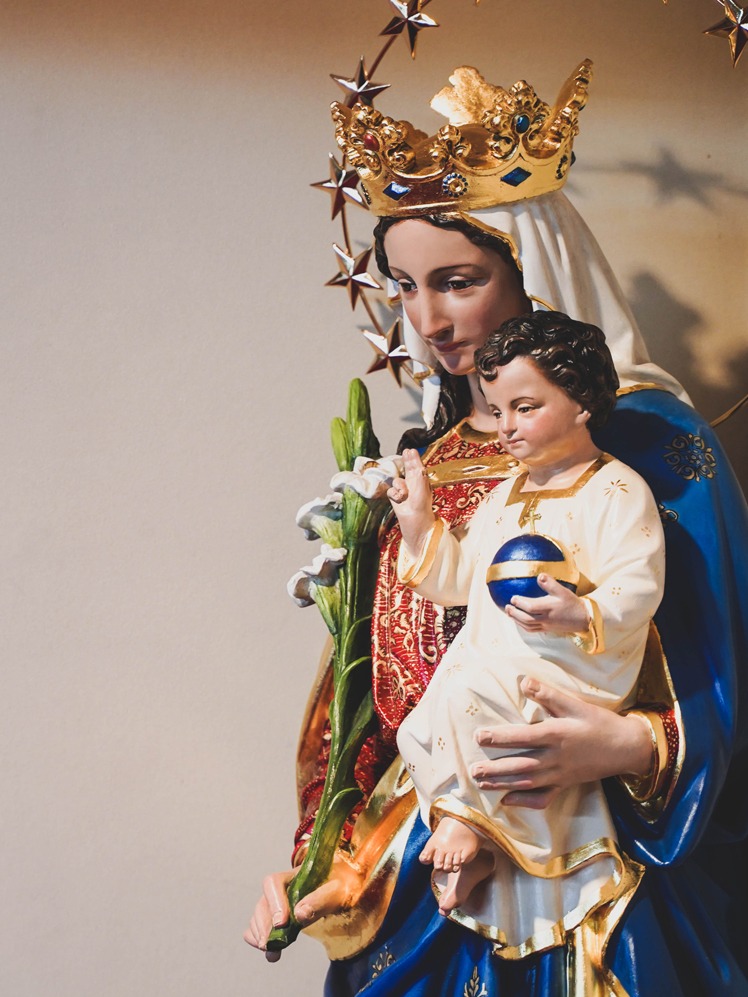 Following In Jesus Christ's Footsteps
We believe that strong and healthy relationships are at the core of a thriving educational institution. At St Peter's College, we prioritise the cultivation of "right relationships" as the foundation of our College operation. These relationships form the bedrock of our pastoral care philosophy and are instrumental in fostering a sense of belonging and support within our community.
On a daily basis, we witness the power of these relationships in the interactions among our immediate College community members. Whether it's the warm greetings exchanged between students and teachers, the collaborative efforts of staff members, or the camaraderie shared among classmates, our commitment to nurturing positive connections is evident throughout our campus.
However, the reach of our relationships extends beyond the confines of our school grounds. We are proud to have established strong partnerships with parents, past pupils, staff, and friends of the College. These relationships not only enrich our community but also enable us to fulfill our mission and provide the best possible educational experience for our students.
To facilitate community engagement and support, we have the PTFA (Parents, Teachers, and Friends Association). The PTFA serves as a platform for parents, teachers, and friends to actively participate in College activities, events, and initiatives. It allows members of our community to contribute their time, skills, and resources, fostering a sense of collaboration and collective responsibility.
We invite all members of the St Peter's College community, both current and past, to engage with us through these channels. Together, we can continue to strengthen the fabric of our College, forge lasting connections, and create a nurturing environment where every individual can thrive academically, emotionally, and socially.
Join us in our pursuit of "right relationships" and be an integral part of our vibrant community at St Peter's College. Together, we can make a meaningful difference in the lives of our students and contribute to a brighter future for all.
Grounded In The Catholic Faith
At St Peter's College, we strive to cultivate a unique special character that goes beyond the ordinary. Rooted in Catholic traditions and relationships, our college embraces a holistic approach to education that encompasses not only academics but also spiritual growth and social responsibility.
We believe that every young person has the potential to flourish and become the best version of themselves as intended by God. To support their journey of self-discovery and personal development, we offer a wide range of opportunities and experiences. Our events and programs are carefully designed to nurture their spirituality through retreats, prayer, liturgy, religious education, leadership training, and engagement in social justice activities.
At the heart of our college community, we foster partnerships that reflect our values and aspirations. We prioritise creating a safe and caring environment where every individual is valued, and differences are celebrated as a strength. Our commitment to a bi-cultural heritage is evident in our curriculum and co-curricular activities, honoring the rich diversity of our students' backgrounds and fostering an inclusive atmosphere.
We believe in the power of unity, and thus, we encourage our students to pray, play, and study together. Our college provides an environment that nurtures the well-rounded development of each individual, recognising the importance of balancing academics with leisure, spirituality, and communal experiences.
At St Peter's College, we invite you to join our community and embark on a transformative journey of personal growth, spiritual enrichment, and meaningful connections. Together, we can empower young minds to become the best versions of themselves and make a positive impact on the world around them.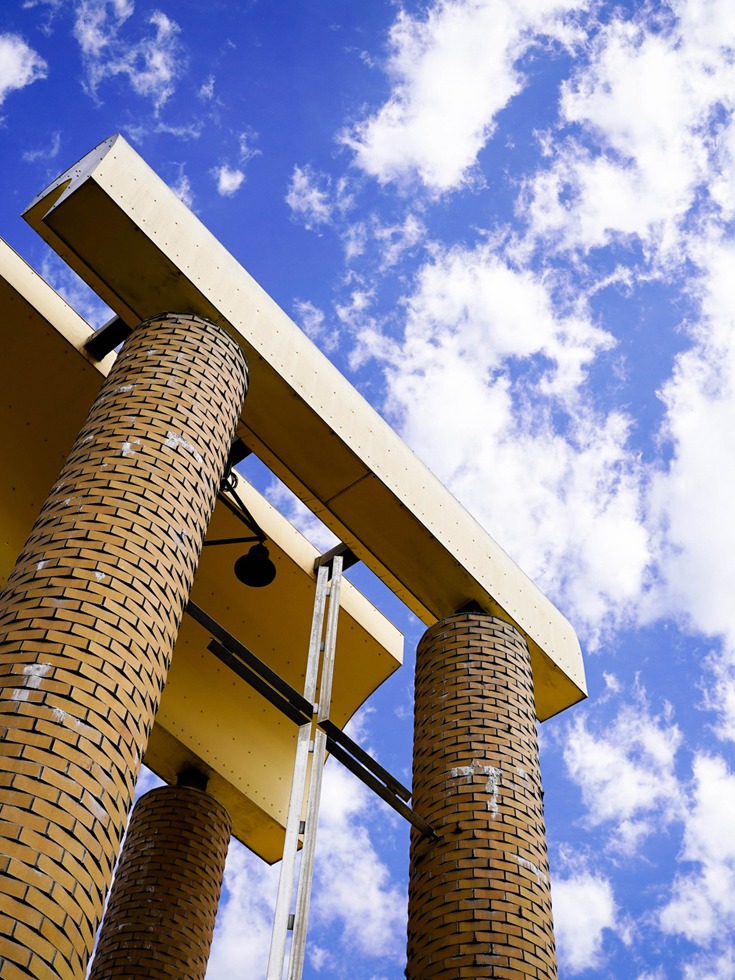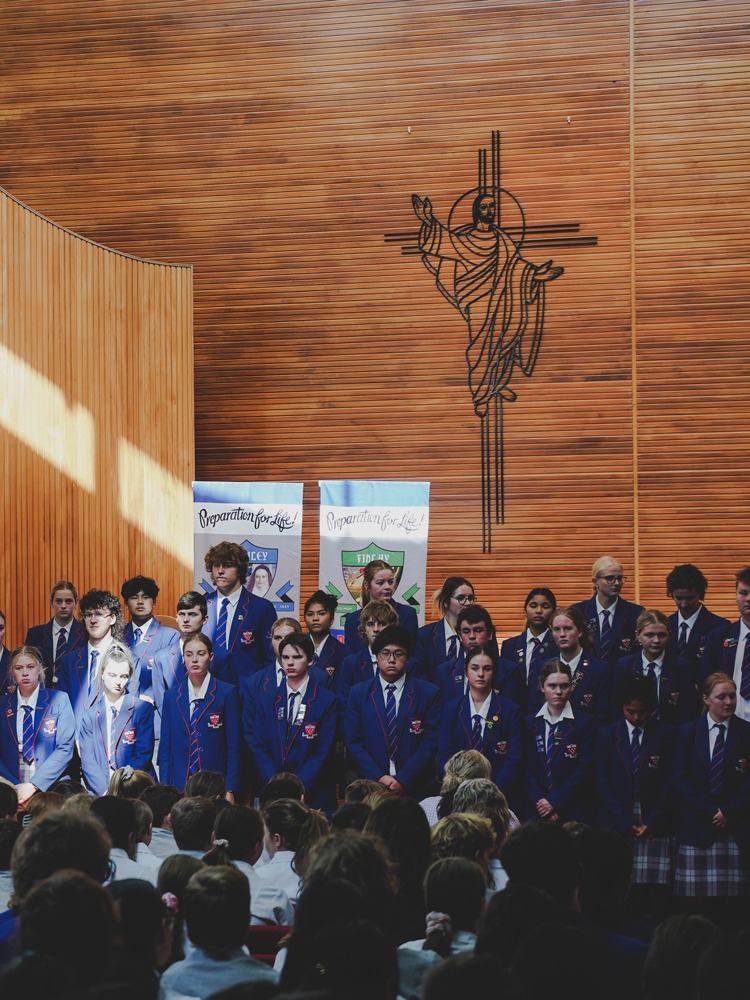 Part Of The Wider Community
At St Peter's College, we prioritize the holistic development of our students, combining academic excellence with the teachings of the Catholic Church. Our close connection with the Church of the Blessed Sacrament reinforces our commitment to nurturing the spiritual growth of our students.
Through regular participation in Mass, sacraments, and religious education programs, we strive to instill values of compassion, integrity, and service in our students. Our students have the opportunity to engage in various spiritual activities, including retreats, prayer services, and community outreach programs, enabling them to deepen their understanding of the Catholic faith and develop a strong relationship with God.
We take pride in our collaboration with the wider Dunedin Diocese, which offers additional support and resources to enrich the educational experience at St Peter's College. Together, we aim to create an inclusive and nurturing environment that fosters academic achievement, spiritual growth, and personal well-being.
For more information about our Diocese, please visit the Catholic Diocese of Dunedin website. The Diocese of Dunedin encompasses a vibrant and diverse Catholic community, serving the spiritual needs of believers across the region. With St Peter's College and St Mary's Primary School as integral members of our local parish in Gore, we foster a sense of unity and shared faith within our educational institutions.
Fr Jaime Lalaguna, MSP
I am Fr Jaime D Lalaguna, MSP, and I am delighted to be a part of the St Peter's College community. Having been born, raised, and educated in the Philippines, I bring with me a rich cultural heritage and a deep sense of devotion to my faith.
Before embarking on my priestly journey, I served as a member of the Philippine Lay Missionary Program, where our mission was to organize Basic Ecclesial Communities both locally and overseas. It was during this time that I witnessed the transformative power of community-building and the importance of fostering a sense of togetherness among believers.
On the 28th of December 1996, I was ordained as a missionary priest, dedicating myself to spreading the message of love, compassion, and faith. My ministry has taken me to various corners of the world, including the Philippines, Guyana in South America, and now, here in New Zealand.
Upon my arrival in New Zealand on the 13th of September 2013, I was assigned to the Basilica Invercargill for a year, followed by seven fulfilling years in Queenstown. Recently, on the 17th of April 2021, Bishop Michael appointed me to serve in the Gore Pastoral area, where I am humbled and excited to work alongside you.
As a member of the St Peter's College community, I am committed to nurturing the spiritual growth and academic development of our students. I believe in fostering an environment where students can discover their unique talents, deepen their understanding of the Catholic faith, and develop a sense of purpose rooted in service to others.
I look forward to getting to know each and every one of you, as we embark on this journey of faith and knowledge together. Let us strive for excellence, embrace diversity, and build a community that upholds the values of St Peter's College.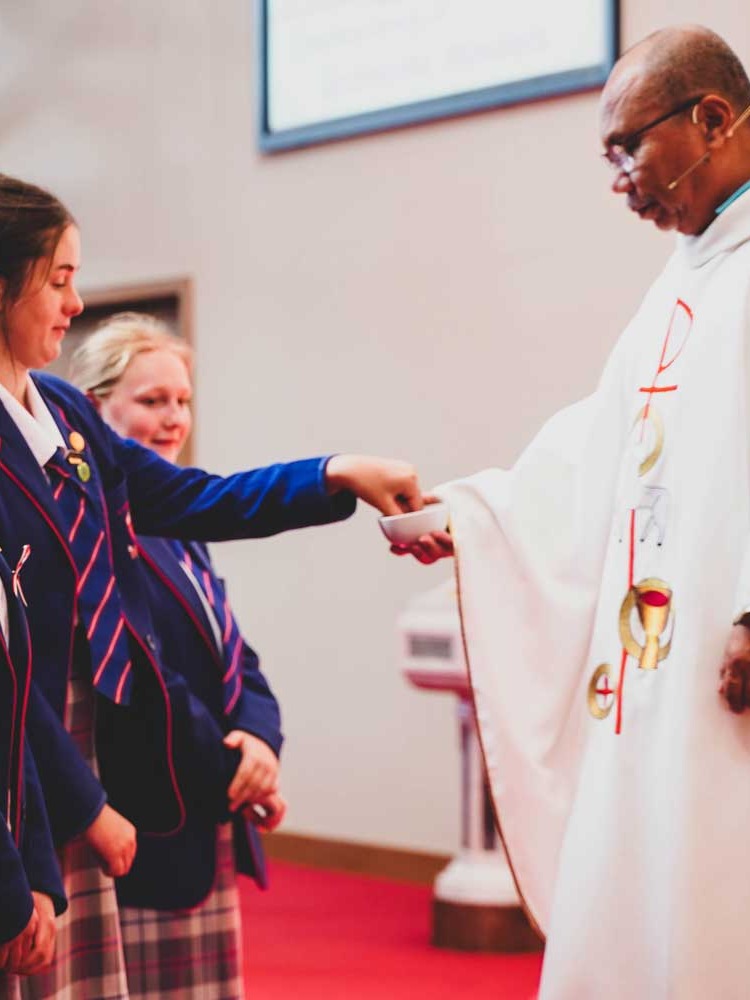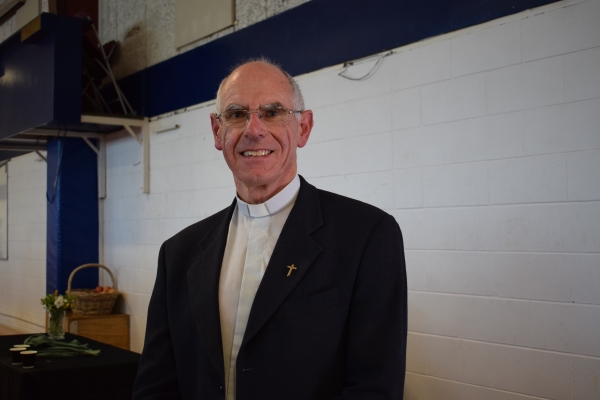 Most Reverend Michael Joseph Dooley.
Bishop Michael's journey of faith and service has brought him to the esteemed position of the seventh Bishop of the Diocese of Dunedin. With his roots in Invercargill, Southland, he carries a deep understanding and connection to the local community, its traditions, and its people.
Having been ordained for the Diocese of Dunedin in 1989, Bishop Michael's early years of ministry were spent nurturing and guiding the faithful in diverse parishes across Otago and Southland. His dedication and commitment to the spiritual growth of the congregations he served were evident, leaving a lasting impact on the lives of many.
On the momentous day of 26 April 2018, Bishop Michael received the profound honor of being ordained as the seventh Bishop of the Diocese of Dunedin. Since then, he has been steadfastly leading the diocese, drawing upon his vast experience, wisdom, and compassion to guide the clergy and faithful towards a closer relationship with God.
Bishop Michael's leadership style is marked by humility, empathy, and a strong focus on fostering unity and inclusivity within the diocese. His visionary approach encourages collaboration, deepening the faith, and engaging with the challenges of the contemporary world.
As a prominent figure in the Catholic community, Bishop Michael's presence and guidance resonate strongly with the students, staff, and families of St Peter's College. His commitment to nurturing young minds and guiding them in their spiritual journeys is an inspiration to all. Through his pastoral care, he ensures that the college community is supported and empowered to embrace the values of love, compassion, and integrity.
Bishop Michael's unwavering dedication to the Diocese of Dunedin and his compassionate leadership make him an invaluable asset to St Peter's College. His presence encourages all members of the college to strive for excellence in all aspects of their lives, fostering a sense of purpose and a deepening of their faith.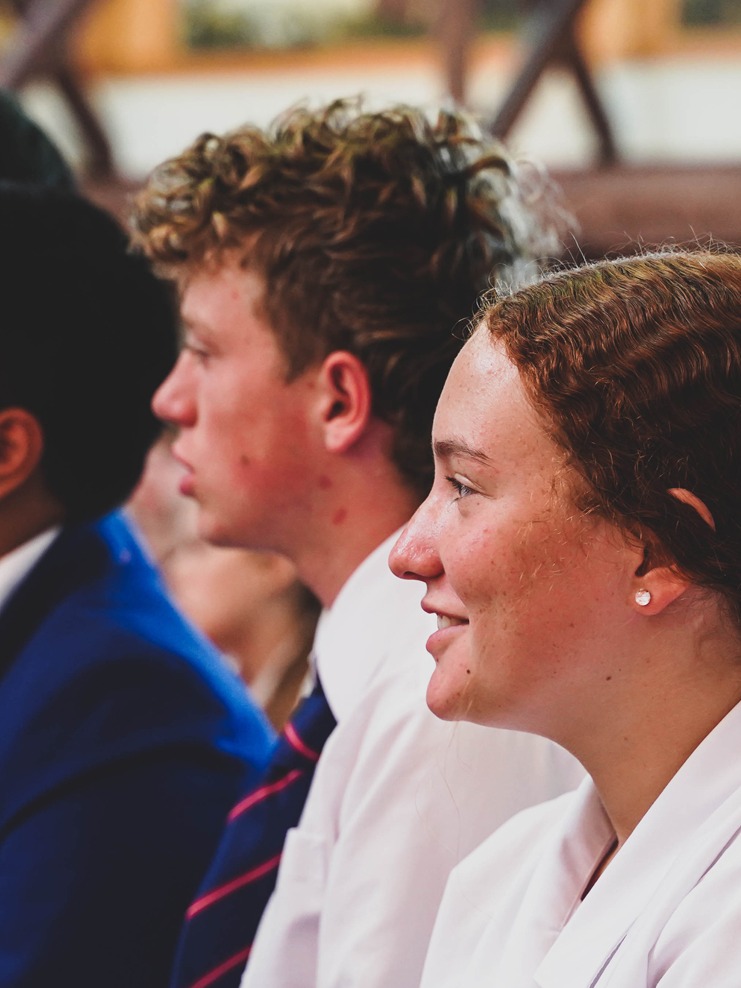 St Peter's College School Prayer
Manaakitanga.
Blessed are you God, Eternal Source of knowledge and truth.
Accept our praise and thanks for the gifts of mind, body and soul that you have given us.
Bless all those who journey together at St Peter's College; students, staff, families and community.
Bless, guide and support us as we endeavour to live out the charisms of Antonio Rosmini and Catherine McAuley.
Bless us in our times of difficulty, sorrow and in times of joy. May we show care for each other and be examples of compassion, community and commitment.
May we be a place of welcome and peace. May the Holy Spirit guide and be with us as we pass on your love.
Through Jesus Christ our Lord.
Amen
Prayer Of Mercy
God of Mercy,
As you have forgiven us
So you send us forth
To bear your message of mercy to all.
Give us willing feet and gentle hands.
Bless us with listening ears
and searching eyes.
Endow us with understanding minds.
Ordain us with compassionate hearts.
In our acts and in our words
Make us vessels of your mercy
To reach out to the broken
Help us lift your people
in body & spirit.
And so make every year
a year of mercy.
Amen