A Wide Range of Cultural Opportunities
St Peter's College places a strong emphasis on fostering student's appreciation and love of cultural pursuits. Events such as our annual Eisteddfod, a week-long cultural festival, exemplify our passion.
St Peter's College places a strong emphasis on fostering students' appreciation and love for cultural pursuits. We believe that a well-rounded education encompasses not only academic excellence but also the exploration and celebration of diverse cultural expressions. At the heart of this commitment lies our annual Eisteddfod, a captivating week-long cultural festival that exemplifies our passion for nurturing creativity and talent.
During the Eisteddfod, our students immerse themselves in a vibrant showcase of music, dance, drama, and visual arts. They seize the opportunity to showcase their skills, express their individuality, and engage in friendly competition. From stunning musical performances that echo through our halls to captivating theatrical productions that transport audiences to different worlds, the Eisteddfod is a platform for our students to shine.
Each year we also compete in the Bishop's Shield competition against the other Catholic Secondary Schools in the diocese. This is a fantastic opportunity to practice our debating, public speaking and scripture reading skills. Beyond the stage, the Arts spark a true sense of community and camaraderie. Students, parents, teachers, and staff join together in support of the Arts, creating an atmosphere of excitement and unity. This annual tradition fosters a spirit of collaboration and teamwork, encouraging our students to appreciate the talents of others and form lasting friendships. We also have a thriving Kapa Haka group that is inclusive of all cultures.
Individual music lessons are also available through our itinerant music teachers for most instruments.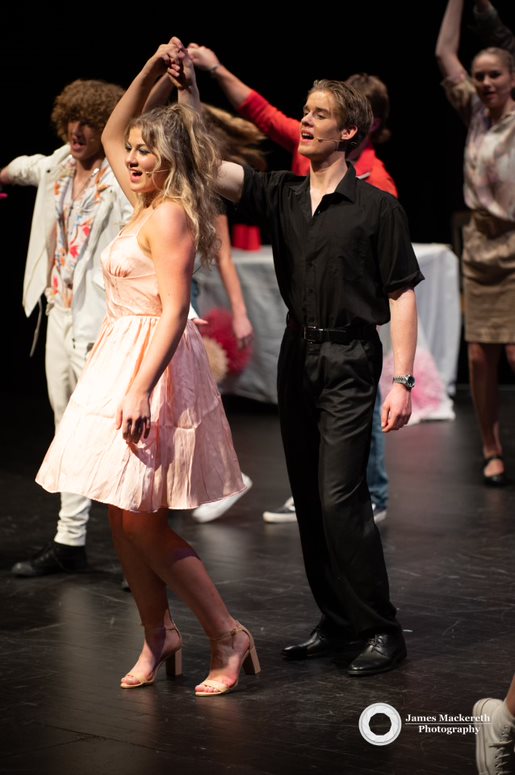 Productions
In recent years, both senior and junior productions have become staple events in our cultural calendar. Attracting audiences from the school and wider community, productions have taken place in our school hall, at the intimate "Little Theatre" and the larger SBS St James Theatre.
St Peter's College proudly presents a dynamic lineup of theatrical productions, captivating audiences with unforgettable performances year after year. Two standout shows that have recently taken centre stage and left a lasting impression are "Back to the 80's" and "Grease."
Transporting audiences through time, "Back to the 80's" brought the iconic era to life with an electrifying fusion of music, fashion, and nostalgia. From neon leg warmers to big hair and iconic anthems, our talented cast and crew transported us back to a time of vibrant colours and unforgettable melodies. With high-energy dance numbers, infectious humour, and a heartfelt storyline, "Back to the 80's" immersed audiences in a wave of retro charm that had everyone singing along in their seats.
"Grease," a timeless classic, needs no introduction. Our adaptation of this beloved musical captured the essence of the 1950s, where greasers and Pink Ladies ruled the school. From the moment the curtain rose, the passion, energy, and sheer joy radiated from our exceptional performers. We experienced the iconic tunes, such as "Summer Nights" and "You're the One That I Want," as they resonated through the theatre, taking everyone on a nostalgic journey filled with romance, friendship, and unforgettable moments.
These productions at St Peter's College showcase the incredible talent and dedication of our students, who bring these stories to life with passion and professionalism. With meticulous attention to detail, our production team creates immersive sets, stunning costumes, and unforgettable choreography that transport audiences into the heart of each story.
By participating in these productions, our students not only develop their performance skills but also cultivate teamwork, discipline, and self-confidence. Through countless rehearsals, late nights, and shared laughter, they form lasting bonds and create memories that will stay with them long after the final curtain falls.

Eisteddfod
The Eisteddfod annual cultural festival that takes place over a week and consists of two days of good-spirited competition followed by two concerts, one at school and one at the local SBS St James Theatre.
In the Eisteddfod, students compete across a range of categories, including speech, drama, musical performance and composition, singing, dance, and entertainment.
As students participate in the Eisteddfod, they not only develop their artistic abilities but also gain valuable life skills. They learn the importance of discipline, perseverance, and the pursuit of excellence. The festival inspires them to push boundaries, explore new creative avenues, and discover their passions. Through workshops, masterclasses, and interactions with accomplished artists, students are exposed to a rich tapestry of artistic experiences that broaden their horizons and deepen their understanding of culture.